Earlier in the year, a new web policy global setting for 'Protected File Bypass' was added to the Umbrella web policy.
A protected file is one that cannot be scanned by Umbrella's Malware protection because the content of the file is protected by encryption. Encryption can be applied to any file and some examples include archives, office documents and PDFs.
Today, in addition to the existing global setting, Umbrella SWG (Secure Web Gateway) now includes a web policy rule configuration for 'Protected File Bypass.' This new configuration provides more flexibility by allowing the bypass to be set for specific users and/or destinations that match the rule. This compares to the global setting which sets the bypass for all users and all destination.
The new rule 'Protected File Bypass' can be found in the rule configuration settings as shown below.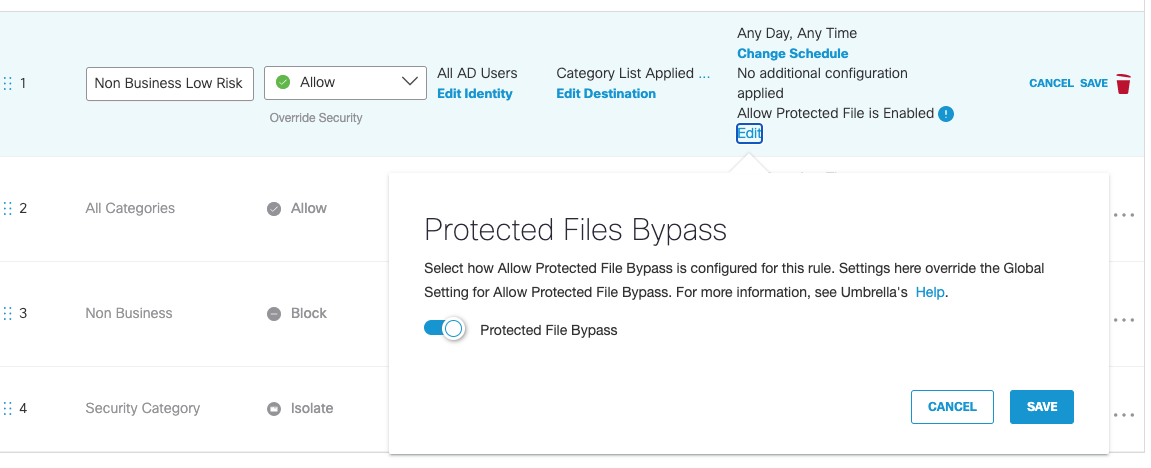 For more information, please see the following Umbrella SIG documentation pages.
https://docs.umbrella.com/umbrella-user-guide/docs/manage-global-settings
https://docs.umbrella.com/umbrella-user-guide/docs/add-rules-to-a-ruleset