The next big feature we're introducing to Umbrella is the custom blocked URLs feature.  The feature gives you the ability to block your own set of URLs in a destination list, adding the flexibility to block specific pages without blocking entire domains.
The custom blocked URLs feature is only available for customers with the Umbrella Insights or Umbrella Platform packages. Click here to read more about packages and contact your Cisco account representative with any questions. 
Taking Advantage of the Custom Blocked URLs feature
Access to the feature is available in a couple of places: the policy wizard allows you to add custom URLs to your blocked destination lists. Additionally, custom URL blocking can also be managed specifically from the Destination Lists management page.
Enable URLs to be blocked in your Destination Lists
To block a URL, simply enter it into a blocked destination list, or create a new blocked destination list just for URLs. To do this, navigate to Policies > Destination Lists, expand a Destination list, add a URL and then click Save.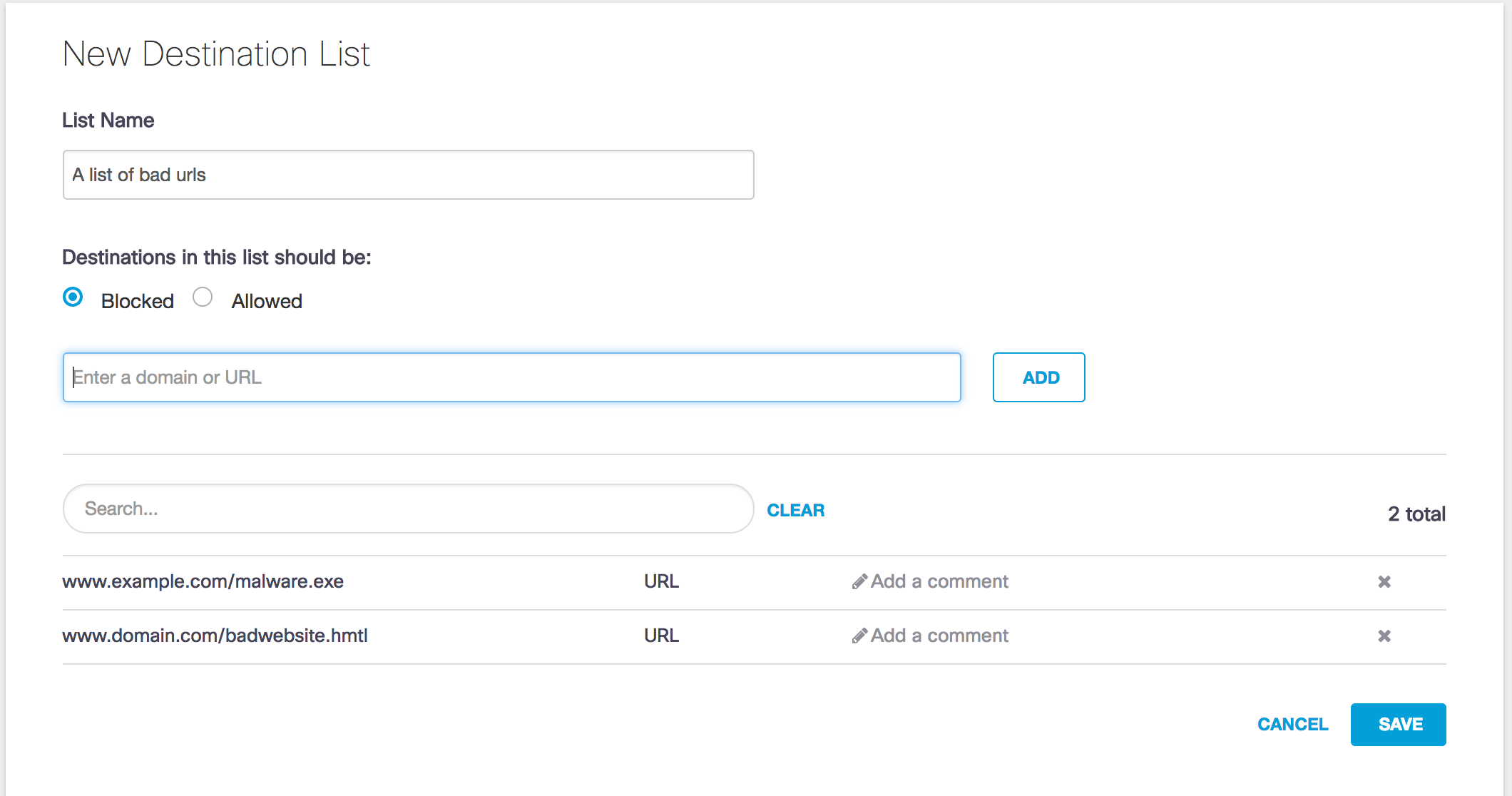 The full documentation for this feature can be found here:
https://docs.umbrella.com/product/umbrella/custom-url-destination-list-how-to/
In order for the Umbrella infrastructure to inspect a URL to determine if it matches the ones defined in your blocked destination list, you must meet the following prerequisites:
Both the Umbrella intelligent proxy and SSL decryption for the proxy must be enabled as a part of the policy in order for the feature to work as expected. For more information, click 

here

.

The Cisco Umbrella Root CA must be installed on the computer(s) using this policy—ensures https connections are filtered, too. For more information, click 

here

.
It's important to specify a URL correctly so that what's in your policy matches what the user is trying to access (and is subsequently blocked). For more information on what URLs you can or can't use, please read this section of the Custom URL Destination List How-to article.
How can I let you know what I think?
Any questions or comments you might have, we want to hear from you! Send your feedback to umbrella-support@cisco.com and include as much detail as possible. For example, screenshots, the browser you're using, your OS and the scenario within which you're using these features.