Point your DNS to Cisco Umbrella
Configuring your DNS directs traffic from your network to the Umbrella global network. When a request to resolve a hostname is made from a network pointed at our DNS addresses, Umbrella applies the security settings in line with your policy.
Step 1 - Find where your public DNS server addresses are configured
Determine which device or server on your network maintains the addresses of your public DNS servers, often a router or a DNS server. Typically, the device that provides an internal non-routable IP address (DHCP) or the device that serves as your default gateway is also where you configure public DNS servers.
Step 2 - Login to the server or router where DNS is configured
Once you've logged in, find the DNS settings for this device. If you're unsure of where these settings are, click here to visit our configuration guide for guidance on configuring a server or router.
Step 3 - Change your DNS server addresses
Change your DNS server address to the following addresses:
208.67.222.222
208.67.220.220
Make sure your DNS is set to be static. Write down the previous DNS server information in case you wish to revert the change.
Note:
When you make changes to DNS, you may have cached results that affect service. Flush your DNS cache to be sure that you're receiving only the latest DNS results. For information on how to flush your DNS cache, click here.
Step 4 - Test your new DNS settings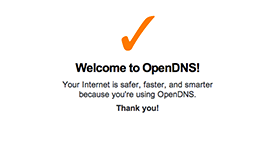 While connected to the network that you've just configured, browse to http://welcome.opendns.com. If you have successfully set your public DNS to the Umbrella servers, you will see the confirmation page shown here to the right.
Note:
Savvy end users may try to modify their DNS settings to circumvent Umbrella. You can prevent this with firewall rules, click here to learn more.
On the following page, customize your protection and filtering by creating a unique Umbrella policy
Next up: Customize your Policy