Overview
This article will help an Umbrella administrator to identity which SWG policy a given end point is matching against in their organization.
Solution
In order to know which policy the user is matching the administrator will need to go to the following policy debug link on the client machine :
 

http://policy-debug.checkumbrella.com/
The output will look similar to :
https://dashboard.umbrella.com/o/<OrgID>/#/configuration/policy/<Bundle-ID>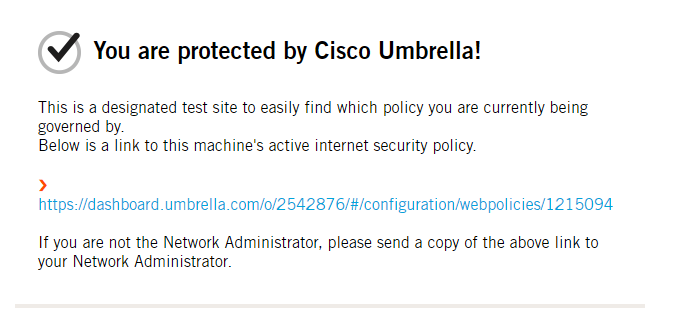 Clicking on the link will direct the administrator to the policy the user matches on the Umbrella Dashboard as shown below:

For Support Cases : The policy link is only available to the members of the organization. Since support will not be able to access this link please share the ORGID and BUNDLE-ID for any support cases that you may have open for SWG.
Note:
The command nslookup-q=txt debug.opendns.com cannot be used to determine policy for SWG and is only limited to determining policy for DNS.