Overview
The existing version of the Umbrella Diagnostic Tool provides important information for troubleshooting network identities, Virtual Appliances and AD Integration, and some Roaming Client instances (and can be found here: Umbrella Diagnostic Tool: What to Provide Support When Asked. For users wanting to troubleshoot issues with Secure Web Gateway (SWG), you can use the policy-debug page and the new SWG Diagnostic Tool listed in this article.
Policy Debug Page
As a first step to troubleshooting, go to policy-debug.checkumbrella.com (or policy-debug.opendns.com) while you are using SWG with the expected Web Policy applied: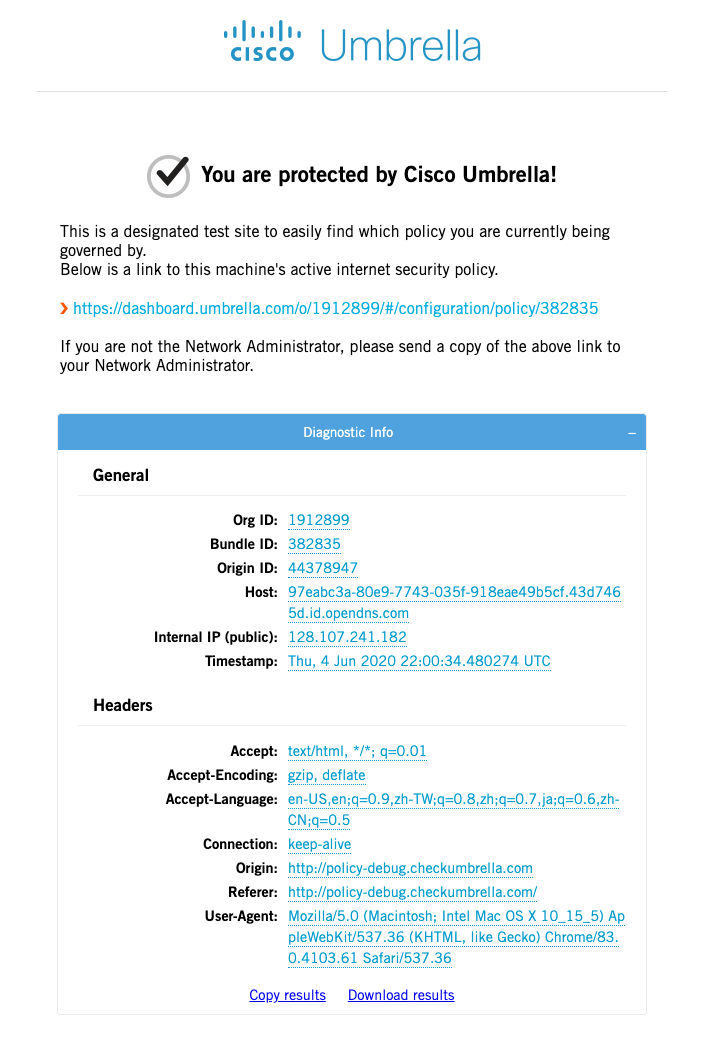 You may have to expand "Diagnostic Info" to view your results. Copy and paste these results to your ticket when submitting your question or replying to your case.
Downloading the SWG Diagnostic Tool
Support will often ask for the results of the SWG diagnostic tool as well to provide additional information. Please respond to your support ticket with any TXT, HAR, or other files generated by the diagnostic tool.
The tool can be found below. This tool is coming to the dashboard soon along with a single download link.
Microsoft Windows :
Download the appropriate version below:
64-bit (most common)

Download all 5 files below and unzip

32-bit

Download all 4 files below and unzip
Mac OS X :
Download all 4 files below and unzip
After installing and running the tool, supply all results back to your support request.