Cisco is proud to release Cisco Secure Client (formerly AnyConnect) version 5.0!
To download, visit software.cisco.com (License required) or securex.cisco.com (SecureX cloud connector module is included by default) and sign up for a SecureX account.
This release features:
Updated visual look and feel
Updated branding
Support for non-Active Directory-based user identity types (Azure AD)
SecureX integration - Device Insights when installing with the Unified Connector module

Download the software directly from the SecureX Device Insights page, pre-configured and ready to go!
Manage cloud updates

Track-based (production, beta, etc)
Explicit version selection
Manage multiple update profiles, allowing the maintenance of different versions across different groups of the enterprise

Manage client profiles from the cloud!

Umbrella
AnyConnect VPN
Secure Firewall Posture
Network Visibility Module
ISE Posture
Network Access Manager
Secure Endpoint
more to come!
Update Changes
As of version 5.0, Umbrella will no longer publish auto updates for the Umbrella dashboard. 4.10 (AnyConnect) branded releases will continue to be published. At the end of life release of 4.10, Umbrella auto update will release a one time update to the current 5.0 release.
Updates in 5.0. Updates in 5.0 are available from the cloud under Insights -> Cisco Secure Client on the SecureX portal. These updates are silently applied and version selection is available - with granular selection by profile! See Umbrella's Help.
There are now two ways to access the Cisco Secure Client:
The Cisco software portal

Deploy with full packages for head end and pre-deploy methods
Optional Cloud Connector (Connector is required for all cloud features)
Deploys the same way as "AnyConnect" branded releases

SecureX Device Insights

Cloud features enabled by default
Cloud management of profiles
Easy cloud updates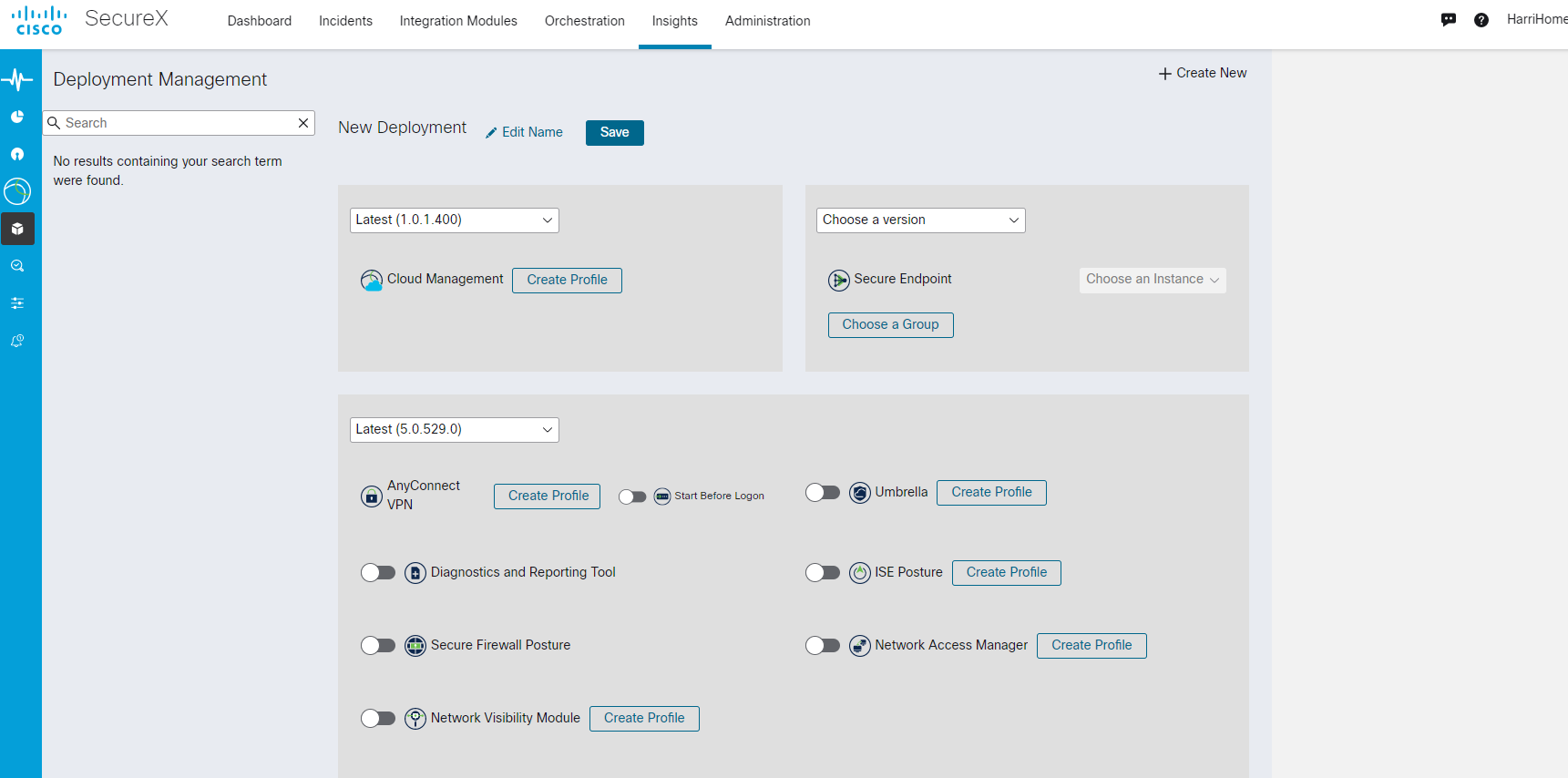 Known Issues
Cisco Secure Client is generally feature equivalent to AnyConnect 4.10.05085. This release does not contain any new Umbrella changes released in 4.10 MR5 builds above this release build (e.g. 4.10.05095). The following known issues will be addressed in 5.0 MR1.
On some dual stack networks, the Umbrella roaming module will intermittently reset state into "checking connection status" due to an issue loading the local DNS search suffixes into the domain bypass lists. The symptoms include:

Queries intended to bypass Umbrella on the local network search suffix list may be temporarily sent to Umbrella public DNS resolvers before failing over to local DNS
Failover is automatic if the public response is NXDOMAIN; however, local resolution may be impacted if the domain resolves publicly.
Temporary solution: Add these domains to the internal domains list on the dashboard.

For Active Directory users, the client may allow a mis-attribution of user on a multi-user device. Multi-user devices by design will pass no user information.